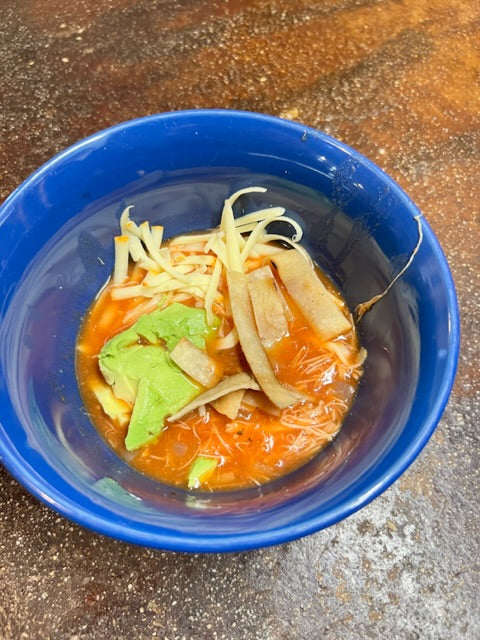 Mexican Chicken Soup
I made this soup for the first time on Monday and I have to share it with you! 
There are a few things that Cameron will eat but doesn't absolutely love, they are tomatoes, chicken, and soups. This soup is all 3 of those things, so I was sure he was going to have to just eat it and survive because we were in a hurry and I couldn't come up with anything else. 

Well, to my shock, he LOVED it! Like went back for 2nds and ate the leftovers the next day. 

So, moral of the story…you need to try it! I used the small whole chickens that we have available for only $3.50/lb for in state buyers! I cooked the chicken like the recipe from the last blog if you need a refresher! 

Ingredients: 
1 Med onion

2 Garlic cloves 
1/2 t Salt 
1/4 t Cayenne Pepper (more if you like spice, less if you don't)
1/4 t Cumin
1/4 t Coriander 
2 C Chicken broth 
1 Can tomato sauce 
2 C Shredded CJW Chicken 
Instructions: 
Dice the onion and garlic and add it to a pan with a little oil of your choice. Cook for a couple min. 

Add all the spices and cook for a 1 min. 
Add the tomato sauce, chicken broth and chicken and cook until warmed. 
That is it! 
We ate with a little avocado, cheese and strips of tortilla that I fried in a little butter till crispy.