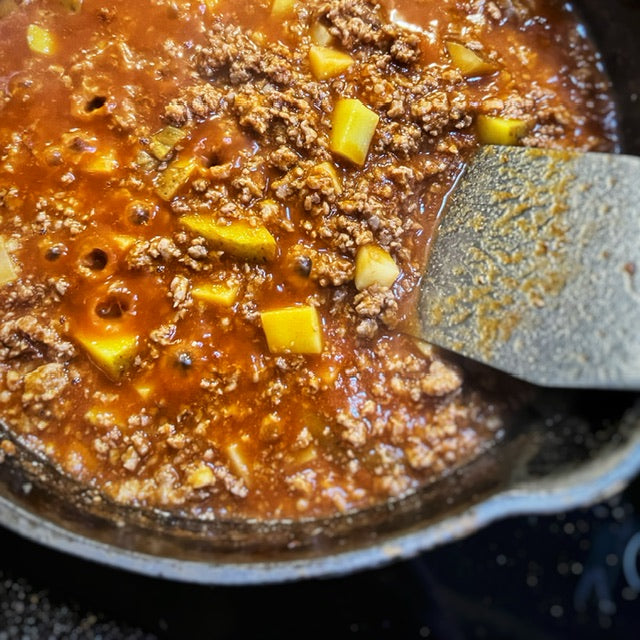 The once forgotten, no name, but recreated meal!
I am sure there is a name for this somewhere as I am sure I am not the first to make this. However, for us, I just threw this together one day out of desperation for something to eat and then Cameron loved it and I forgot what was even in it. Until he found a photo he took of it so he could remember what was in it ha! Guess he knew I would have problems recreating it. 
The important thing to know, is that it is good! 
Ingredients: 
1lb CJW Dry Aged Ground Beef
1lb CJW Ground Pork 
1 Medium Onion 
4 Garlic Cloves 
2 Medium Potatoes
1-2c Chicken Broth  
1 Small Can Tomato Paste
1/4-1/2c Diced Green Chilis 
Instructions:
Dice the onions and garlic and add to a pan with a little fat of choice.

 

Brown in the Ground Beef and Ground Pork in the pan.

 

Dice the potatoes into 1/2in cubes and add to the pan.

 

Add the broth, tomato paste and green chili

Make sure the potatoes are covered in liquid and let simmer for about 20min until the potatoes are tender.

 

Serve with rice or tortillas, avacados, cilantro, limes, or beans! Basically any of your favorite Mexican sides!

 
Easy and delicious! My favorite meals that we can eat over and over again. 
If you enjoy this one, please share it with a friend!