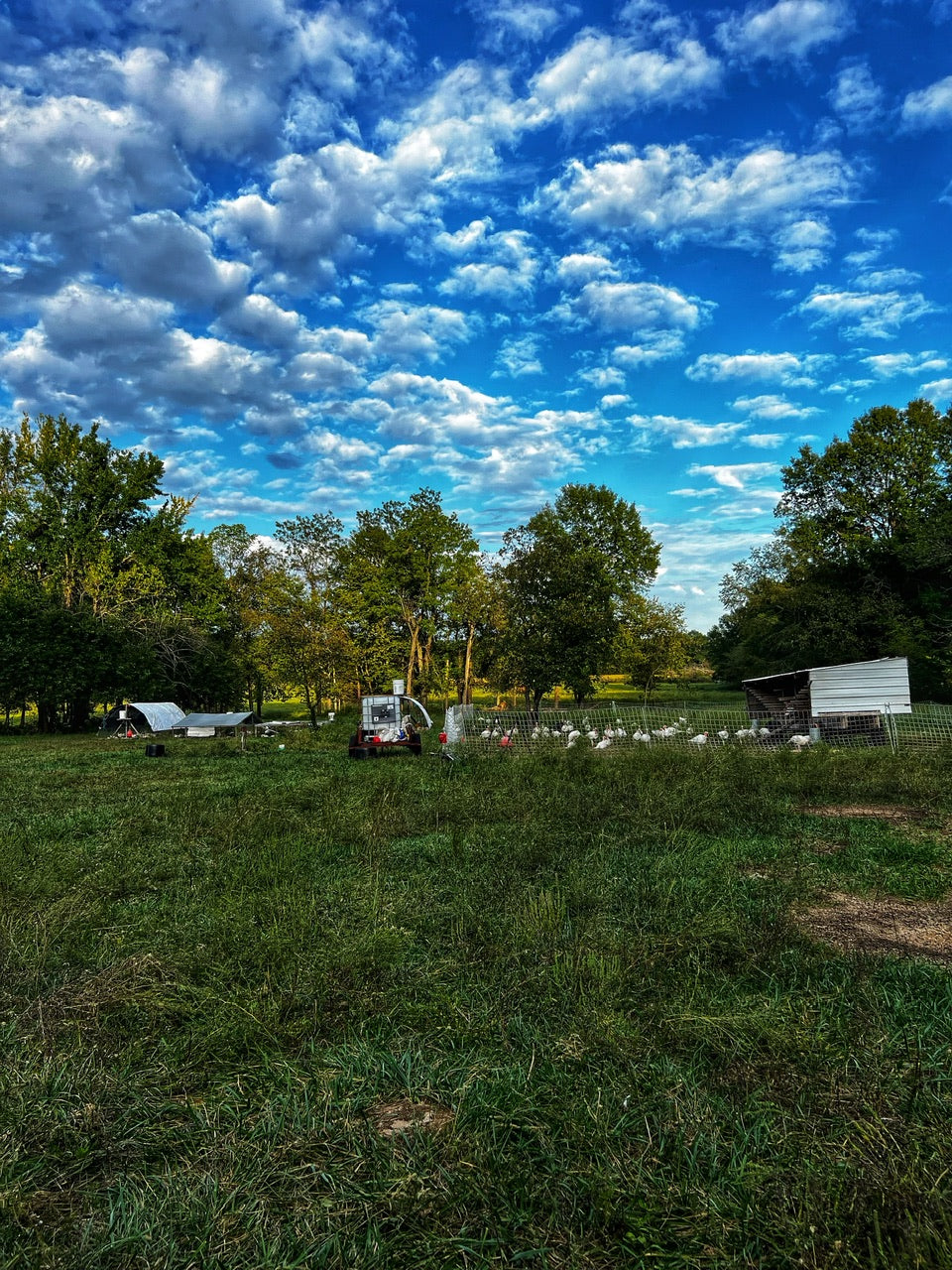 Quick little ranch/business update!
I like to start with the chickens for some reason, maybe because they are seasonal and also the first animals to get us started on this business! Anyways, we are finishing up our last 2 weeks with the chickens. I can say I highly recommend building a business that gives you breaks. Like our poultry does, its so nice to look forward to a slightly easier/different time of year. Not like we wont find plenty of ways to fill the free time the break gives us lol! 
I have shared before how hot and dry our summer has been, it has not left us without challenges to overcome yet. Because of the extreme heat, the steers and pigs we had planned on processing in October did not grow quite enough to be processed yet. Which we were really planning on them being ready because our processor shuts down for deer season for the month of November. Now, our animals that will be ready in November either have to wait till December or we are on a waiting list for a new processor for November. 
The reason I want them to be processed in November is so we will have meat for our annual Christmas boxes with all steaks! So, this has been another learning curve for us. I now know I will plan for slower growth in the summer to make sure I have animals ready for October processing. 
This has opened my eyes to realizing that while I so badly want to be perfect and raise just the right amount of animals for the right time of year. That is going to take a few more than 3 years to figure out, especially since the weather and animals are all changing variables. I am giving myself grace to make these mistakes and will only have to do better next year! I would suspect that no year will ever go off perfectly, simply with the nature of our business but I will do better to control the things I can control and plan for the things I can plan for. 
The good news is that our turkeys are growing great! They just got a fresh patch of pasture today and will be ready for your thanksgiving meal! They will ship out Monday the 12th or we will arrange pick ups/deliveries that week as well.  
We have had a lot issues with our walk-in thermo king freezer this year and finally decided to give up fixing the old freezer unit and have a new over head commercial unit coming in this week hopefully! It is a big investment but God has provided this month so we are so grateful!
So, all in all I would say the first 3/4 of the year has treated us well, and the last quarter is looking bright!